Special Needs Ministry is dedicated to providing environments that help develop the spiritual, physical & emotional lives of special needs children while providing support for their families. Special Blessings is a Sunday morning setting for special needs children. Click here to read more and register for our Special Needs ministry.
9:30 Service - Age 4 through 2nd Grade
11:00 Service - 3rd Grade through 8th Grade
Parents:

Mobile Devices
Books – Special Needs
Special Blessings:
Provides a sensory-friendly classroom experience
Is for those who may not flourish as well in our mainstream multi-sensory, large-group environment
Offers a specialized program with hands-on experiences
Provides extra volunteer attention to meet each child's needs
Special Blessings is offered Sundays during the 9:30 am service (Age 4 - 2nd Grade) and the 11am service (3rd Grade - 5th Grade). Please contact staff member and Special Needs Coordinator, Belinda Thompson, or read our Special Needs Ministry Guidelines for more information.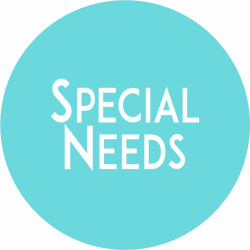 View other parenting resources in Parent Pathway