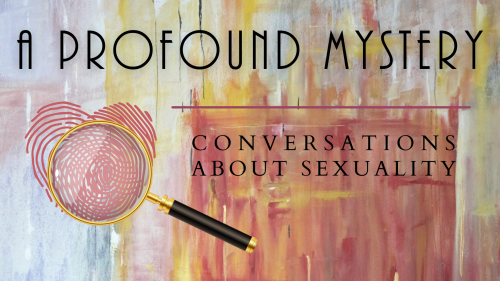 Recommended Resources:
Books:
Gender/Transgender:
Embodied: Transgender Identities, The Church, & What the Bible Has to Say by Preston Sprinkle - Compassionate, biblical, and thought-provoking, Embodied is an accessible guide for Christians who want help navigating issues related to the transgender conversation. Preston Sprinkle draws on Scripture, as well as real-life stories of individuals struggling with gender dysphoria, to help you understand the complexities and emotions of this highly relevant topic. This book fills the great need for Christians to speak into the confusing and emotionally charged questions surrounding the transgender conversation. Written for Christian leaders, pastors, and parents, Embodied equips you to speak with both grace and truth into difficult questions surrounding the transgender conversation.
Same-Sex Attraction:
People To Be Loved: Why Homosexuality Is Not Just An Issue by Preston Sprinkle - Preston Sprinkle moves the topic [of homosexuality] from an often hostile, knee-jerk, 'us' versus 'them' debate to a respectful, loving, and truthful exchange. Focusing on Scripture—and how and where it addresses homosexuality—Sprinkle challenges those on all sides of the discussion to lay aside their assumptions and genuinely seek to not only know what the Bible actually says about homosexuality, but evaluate how we treat the people behind the word.
Living In A Gray World: A Christian Teen's Guide To Understanding Homosexuality by Preston Sprinkle - Homosexuality has become one of the most talked-about topics in the world. But the way you as a Christian should respond can feel more confusing than every before…. Author Preston Sprinkle has encountered these same questions and, as a Christian and a college professor, he has dealt with these issues firsthand. Through honest conversation, real-life examples, and biblical research, Sprinkle unpacks what we can know to be true, and how Scripture's overall message to us today allows us to move forward and find answers that align with God's intent.
Compassion Without Compromise: How the Gospel Frees Us to Love Our Gay Friends Without Losing the Truth by Adam T. Barr and Ron Citlau - In their role as pastors, Adam Barr and Ron Citlou have seen how [homosexuality] can tear apart families, friendships, and even churches. In this book they combine biblical answers with practical, real-world advice on how to think about and discuss this issue with those you care about. They also tell the story of Ron's personal journey from same-sex attraction and sexual brokenness to healing. Truth does not preclude kindness—and a good dose of humility is necessary to love our neighbors. With sensitivity and winsomeness, this book will offer an honest but inviting message to readers: We are all in need of the healing that can only come from the truth of the gospel.
Guiding Families of LGBT+ Loved Ones: For Every Pastor And Parent And All Who Care by Bill Henson - When LGBT+ loved ones come out, parents can experience shock. Fear and grief can disable their initial reaction. Emotions erupt. Hurtful words spill. Trust is damaged. Relationships become disconnected. Meanwhile, in the church, LGBT+ people often face impossible hurdles and suspicion about their faith. One courageous disclosure can be met with a response that communicates, 'I don't understand you.' Guiding Families offers a relationally honoring, biblically sound path forward.
Marriage, Scripture, and the Church: Theological Discernment on the Question of Same-Sex Union by Darrin W. Snyder Belousek - Darrin Snyder Belousek takes a distinctive approach to the same-sex-union debate by framing the issue as a matter of marriage and articulates a biblical-traditional theology of marriage for the contemporary church. (recommended by Preston Sprinkle)
Hope for the Same-Sex Attracted: Biblical Direction for Friends, Family Members, And Those Struggling With Homosexuality by Ron Citlau - Sometimes in our big-picture discussions about homosexuality and same-sex marriage, we lose sight of the person in the middle of the struggle. Whether that struggler is you or someone you care about, there are two fundamental questions that need to be answered: How can someone with same-sex attraction be faithful to Jesus? And how can everyone else support and encourage them in this pursuit? With clarity and grace, author and pastor Ron Citlau will help you think through every option the Bible offers—and what it does not.
Childhood Sexual Abuse:
Undaunted by Josh McDowell with Cristobal Krusen - Josh McDowell chronicles the true story of growing in an environment of severe family dysfunction and childhood sexual abuse, causing him to defy God's existence. Yet God redeemed a horrible situation with his unbelievable grace. Undaunted unfolds the dramatic spiritual transformation in Josh's life when he faces his past head-on and puts everything entirely in God's hands. The result is an undaunted faith, a gift freely offered to everyone who seeks it.
Marriage:
Sacred Marriage by Gary Thomas - What if God's primary intent for your marriage isn't to make you happy . . . but holy? What if your relationship isn't as much about you and your spouse as it is about you and God? Sacred Marriage doesn't just offer techniques to make a marriage happier. It contain practical tools and insights from Scripture, church history, time tested wisdom from Christian classics, and examples from today's marriages.
The Meaning of Marriage by Timothy Keller with Kathy Keller - Based on the acclaimed sermon series by New York Times bestselling author Timothy Keller, this book shows everyone - Christians, skeptics, singles, longtime married couples, and those about to be engaged— God's vision for marriage as revealed in the Bible.
Sexuality:
For the Body: Recovering a Theology of Gender, Sexuality, and the Human Body by Timothy C. Tennent - This book looks at what it means to be created in the image of God and how our bodies serve as icons pointing to God's redemptive purposes. Discussing topics like marriage, family, singleness, and friendship, and the emergence of the 'digital self,' Timothy Tennent examines the erosion of the human body in art and media today. In addition to diagnosing our cultural ills, he offers a robust framework for discipling people in a Christian theology of the body.
God, You, & Sex: A Profound Mystery by David White - This book offers a Scripture-based perspective that goes beyond the typical message to just wait for marriage.
Into The Light: Healing Sexuality in Today's Church by Mark Ongley - Into The Light is written to begin a biblically grounded and theologically informed discussion of the beautiful gift of sexuality. Don't be surprised if deep brokenness begins to surface—that's the whole idea. Embrace one another with open arms... The journey to healing begins when we feel safe to take the first step.
Marriage, Scripture, and the Church by Darrin W. Snyder Belousek - This author takes a distinctive approach to the same-sex-union debate by framing the issue as a matter of marriage and articulates a biblical-traditional theology of marriage for the contemporary church.
Sexuality: Approaching Controversial Issues with Grace, Truth and Hope by Bruce B. Miller - Miller addresses the purposes of sex in marriage, singleness, cohabitation, homosexuality (and more) within a biblical framework filled with grace. He helps us understand and steward our sexuality by providing fresh insights into God's wisdom. Many people just don't know how to talk about these issues with friends and family. This book will help you think with the mind of Christ and express empathy with the heart of Christ.
Talking With Teens About Sexuality: Critical Conversations About/Social Media/Gender Identity/Same-Sex Attraction/Pornography/Purity/Dating/etc. by Beth Robinson, EdD & Latayne Scott, PhD - Gender confusion, pornography, the #MeToo movement, online boundaries . . . discussing sexuality and protection with young people is more complicated now than ever! In this straightforward guide, Robinson and Scott help you better understand your teens' world and provide strategies for helping them stand up in the midst of cultural pressures. Includes conversation starters.
Faithful: A Theology of Sex by Beth Felker Jones - Many believers accept traditional Christian sexual morality but have little idea why it matters for the Christian life. In Faithful, Beth Felker Jones sketches a theology of sexuality that demonstrates sex is not about legalistic morals with no basis in reality but rather about the God who is faithful to us.
Pure Hearted: Banding Together for Sexual Wholeness by Mark Ongley - Maintaining purity of heart in a sex-saturated world is a challenge for all believers…. But freedom is possible. Studies reveal that abstinence from addictive behavior for ninety days can place you on a new plateau of victory. But you can't do it alone…. Banding together with a few trusted friends, however, is a key to liberation." (based on deepening one's relationship with God)
Why does God care who I sleep with? By Sam Allberry - In this thoughtful and accessible book, [Sam Allberry] suggests that when we properly understand the teaching of Jesus on this most personal of subjects, we come closer to fulfilling our deepest longings than we might realize.
Podcasts:
Marriage:
God's Indestructible Plan for Marriage by Jimmy & Karen Evans - People desire to be married, but many doubt if marriage still works. Discover the perfect plan for a lasting marriage that will give you the key to fulfilling your spouse's heart.
Breathe Spiritual Life into Your Marriage by Gary Thomas (Focus on the Family) - Gary encourages married couples to seek selflessness and spiritual purpose for their relationship in a discussion based on his book, A Lifelong Love: Discovering How Intimacy with God Breathes Passion Into Your Marriage.
God's Design by Dennis Rainey (FamilyLife) - Are you aware that the Bible spells out clearly God's design for marriage?
Websites:
LGBT+:
Center for Faith, Gender & Sexuality by Dr. Preston Sprinkle - A collaboration of Christian pastors, leaders and theologians who aspire to be the Church's most trusted source of theologically sound teaching and practical guidance on questions related to sexuality and gender. We seek to address two primary needs in the church. One, to help leaders cultivate a more robust biblical ethic of marriage, sexuality and gender. Two, to help churches and organizations create a safe and compassionate environment for LGBT+ people, their families, and anyone wrestling with their sexuality or gender identity.
Lead Them Home by Bill Henson - a training and consulting resource for church and ministry leaders on LGBT+ inclusion and care; materials include Posture Shift for church and ministry leaders; Guiding Families to guide pastors, parents and all who care for LGBT+ loved ones; and Justice Initiatives to enact justice for marginalized LGBT+ people.
Compassion Without Compromise - How the Gospel frees us to love our gay friends without losing the truth.
Restored Hope Network - A coalition of ministries serving those who desire to overcome sinful relational and sexual issues in their lives and those impacted by homosexuality.
Sexual and Gender Identity Institute - Wheaton College, IL (Dr. Mark Yarhouse - one of the most significant researchers in these areas)
For Parents of Students:
Christian-Sexuality - Center for Faith, Gender and Sexuality and Project Six19: Jesus, Sex and Gender: a 12-part, video-based series for youth leaders, mentors and parents to engage youth about sex and sexuality.
For Parents of Children:
Talking to Your Kids About Transgender Issues from Focus on the Family
Responding to Teen Child Who Says He's Gay from Focus on the Family
How to Talk with Your Children About Homosexuality by Jeff Johnson (not a resource if your child has already "come out" as gay)
Answering Parents' Questions on Gender Confusion in Children by Glenn T. Stanton
Pornography:
Covenant Eyes - This software helps you stop watching porn by monitoring your devices and sending a report of your device activity to a trusted friend or ally.
Marriage:
Focus on the Family - God's Design for Marriage - Focus on the Family is a global Christian ministry dedicated to helping families thrive. They provide help and resources for couples to build healthy marriages that reflect God's design, and for parents to raise their children according to morals and values grounded in biblical principles.
Family Life - Helping families pursue the relationships that matter most, relying on God's Word to bridge the gap between good intentions and actual relational results.
Drs Les and Leslie Parrott - This husband-and-wife team share the same passion for helping others build healthy marriages. Check out all the resources on their website.
Articles:
Gender/Transgender:
A Biblical Conversation About Transgender Identities by Preston Sprinkle
A Christian Survey of Sex Reassignment Surgery and Hormone Therapy by Mark Yarhouse & Julia Sadusky
Understanding the Gender Dysphoria Phenomenon by Mark Yarhouse
What Pronouns Should Christians Use for Transgender People? by Gregory Coles
Same-Sex Attraction:
10 Things I Wish Every Christian Leader Knew About Gay Teens In Their Church by Laurie Krieg
A Christian Perspective on Parenting a Gay Child by Dr. Brad Harper
Is Same-Sex Attraction (Or "Being Gay") A Sin? by Dr. Nate Collins and Greg Coles
Should Christians Attend A Same-Sex Wedding Ceremony? by Preston Sprinkle
Why Didn't Jesus Mention Homosexuality? by Preston Sprinkle
Marriage:
What is God's Design for marriage? - Is there a design for marriage, and, if so, who has the right to change the design? Can we redefine what marriage is if the old definitions are too restrictive? At the heart of our questioning is a clash of worldviews.
God's Design for Marriage - Stuart Briscoe lays out foundational principles of marriage.
What is God's Design for Marriage? - The world's definition of marriage is rapidly changing. The Bible's definition of marriage has never changed and never will. The Bible is our guide as we remind ourselves and teach our children about God's design for marriage.
Christian Counseling Contacts:
Freedom Prayer at Gateway
A guided transformational prayer with a trained facilitator and prayer partner in a confidential setting. This process can release negative emotions, reveal sin and expose the lies of the enemy, and replace them with God's truth. With this freedom, individuals can more readily engage in growing as disciples of Christ.
Same-Sex Attraction Resources available on RightNow Media
Sexuality Resources available on RightNow Media
Sexual Sin Resources available on RightNow Media
Marriage Resources available on RightNow Media
Read more about accessing free resources from RightNow Media.